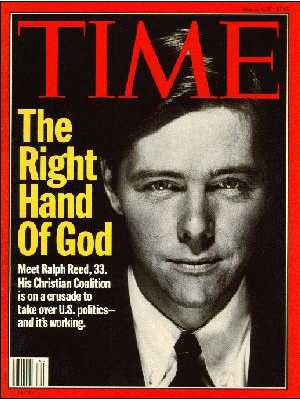 Hypocrisy takes many forms, but to me the most insidious is the hypocrite who hides behind God's robes. That would include Ralph Reed, the boyishly smarmy former head of the Christian Coalition, who finds himself neck deep in the Jack Abramoff Scandal.
Reed's stock has fallen considerably since he appeared on a
Time
magazine cover in 1995 under the headline "The Right Hand of God." Despite his vehement denials (isn't lying a sin?), it turns out that Reed, now a Republican candidate for Georgia lieutenant governor, worked hand in glove with Abramoff. Reed's own PR and lobbying companies got at least $4.2 million from Abramoff to mobilize Christian voters to fight Indian casinos competing with Abramoff's own casino clients. (That would have to be another sin or two, as well, but then who's counting?)
The
Washington Post
has the
whole story
.
* * * *

I've long argued that, sooner or later, legalized gambling eats its own.
And so it has again in the case of the red hot American Indian casino industry, which coughed up tens of millions of dollars for Abramoff to lobby for them in Congress and against rival casinos. (In one instance, the Coushatta tribe in Louisiana paid more than $30 million to Abramoff to protect its Lake Charles casino from competition from Texas casinos, including one run by the Tigua tribe, which paid Abramoff more than $4 million to do just the opposite.)
Notes the
New York Times
in an
editorial
:
But for the American Indian community, the administration and the Congress, the Abramoff scandal raises deeper issues than one bad lobbyist and his mistreatment of his Indian clients . . . And while Indian leaders point to more jobs and new homes and better health care as a result of casino profits, it is clear that some tribal leaders are slipping into the worst habits of casino operators elsewhere. As tribes try to protect their wealth, limit competitors and manipulate Congress for their own purposes, they become like any other high-roller working the K Street corridor.
Indeed.